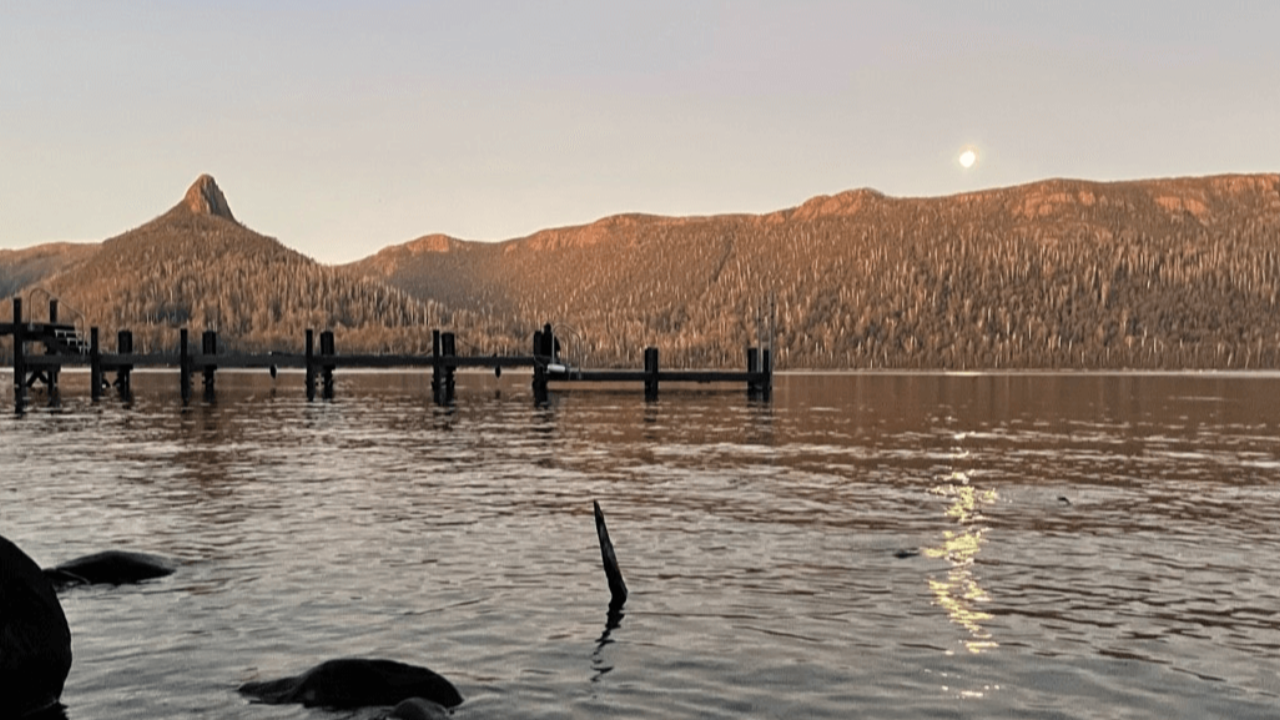 Welcome to Whisper #114.
Final ramblings from my Overland Trek Ramble
For the past 2 weeks I've written about the paradoxical lessons (reminders) I experienced during a trek in Tasmania with mates.
For previous context read Weekly Whispers #112 and Weekly Whispers #113.
What follows are my final ramblings from an outstanding experience.

CLOSE BUT FAR
Many of the trails wound through steep terrain. Often we'd be in sight of the finishing hut for the day when the terrain changed and the trail veered off in the opposite direction. As we got close the trail literally took us further from our destination
#WHISPER Despite a glimpse of your goal, life can take a different direction – keep walking anyway



3 POINTS OF CONTACT
Going up and down difficult terrain the advice was always to have 3 points of contact
#WHISPER – When going through difficult or challenging times who and/or what are your 3 points of contact?

LUXURY IS CONTEXTUAL
We stayed in wooden huts overnight with other hikers. The huts were dry, warm and relatively comfortable. Luxury for an OT hiker. Some of our group chose to camp outside anyway. Their definition of luxury – I brought my tent and I'm going to use it, or the comfort of solitude? Either way, uniquely contextual.
#WHISPER – Almost everything we have is contextual (or comparative) so we add our own definition – what definitions serve you versus hinder you?

WHAT ARE YOU CARRYING?
On many of the side treks we were able to lay down our 20kg back packs and walk with a day pack only. The feeling of laying down the weight was an instant neuro-chemical hit. I'd excitedly look forward to putting my pack down for a few hours. Got me wondering…
#WHISPER – What are you carrying that's weighing you down? What would happen if you were to lay it down for a while?

HEDONIC CALENDARING
I spent 6 months looking forward to the trip. The trip had been scheduled in my diary for a while. It gave me something 'daring' to look forward to. When I don't have something 'daring' planned for the future I experience less joy.
#WHISPER – Schedule something in your future life that you can look forward to

PEER PRESSURE - A BLESSING OR A CURSE?
On day 2 we all swam in a lake. Late Autumn in Tasmania, water about 12°, kit off and head fully under. There's no way I would have done that had I been hiking on my own. I did it because my mates we're doing it. We had a long discussion over dinner about whether it was peer pressure or fomo… without any conclusion!
Either way, I'm glad they encouraged me because I enjoyed the aftermath – camaraderie, bragging rights, laughs and giggles, personal achievement etc. In this instance it was a blessing for me.
#WHISPER – Who do you surround yourself with that will encourage and stretch you? Who might discourage and subdue you?



NO BAD WEATHER... ONLY INAPPROPRIATE CLOTHING
A well-worn phrase attributed to many an author. There is certainly weather that can cause you to feel bad if you don't have the right gear.
However, with the right gear most of the weather would just bounce off.
#WHISPER – What weather, seasons or climate are you prepared for? What will you wear to allow it to meld in or bounce off?

NATURE NURTURES
For 6 days we were immersed 24/7 in nature. I was energising and revitalising for all of us. The flora and fauna; the fresh air; the landscapes and scenery; the grounding. Just being there was nurturing.
#WHISPER – Re-connect with nature – in any form – as regularly as possible

THE ECLECTIC HIKER
During a dinner conversation we constructed our best eclectic hiker. A hiker that was a composite of one trait from each of us. It was remarkable how similar we had noticed the stand out traits of each of us without really knowing each other too well.
#WHISPER – Your traits are shouting whether you appreciate it or not!
(Great dinner game BTW)

BEAUTY IS ALL AROUND US
There were so many occasions when we paused to consume and bathe in the beauty that surrounded us. From the spectacular vistas to the unique flora and fauna. From the connection between mates to the 'oneness' of the environment. From the simplicity of our needs to the variety of thoughts whilst walking.
#WHISPER – Beauty is whispering all around us if only we'd stop to listen

NEW RELEASE
Freedom Fridays Episode 76 - Pete Clark Solo
In episode 76, Pete records a solo podcast. The Overland Track experience was a significant one for Pete and in this podcast he share's some further thoughts and insights about his experience.
Tune in to hear about pausing to look back but focusing on what's in front of you; Going together but at your own pace: how peer pressure exists at any age; and some reflections on the eclectic hiker.
That's all for this week. If you've been enjoying the Weekly Whispers please feel free to forward it to friends and anyone you think would benefit.
As always, email me at [email protected] to share your feedback or to let me know your thoughts.
Cheers
Pete


GET YOUR WEEKLY WHISPER
AND GIVE A LITTLE TOO
IT MAY BE THE WHISPER YOU NEED TO IGNITE A CHANGE
21 Whispers has partnered with B1G1 and each sign up to our Weekly Whispers Newsletter will help break the poverty cycle by providing a day's secondary education to a child in Vietnam
GO ON, SIGN UP AND GIVE A LITTLE